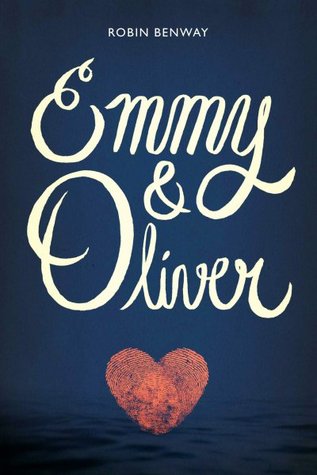 the lowdown
Oliver disappeared ten years ago. His dad kidnapped him and Emmy lost her best friend. The kidnapping changed everything in their small, suburban California town, including scaring Emmy's parents into sheltering her from as much as possible. Ten years later and he's home again, but Oliver doesn't really know what home is. For ten years, he thought his dad was the good guy and that his mother abandoned him.
I really loved this book. I've read a few of Benway's other books and enjoyed them, but I didn't love them like I did
Emmy & Oliver
. I think what I enjoyed most about this book was the depth of the storyline. While certainly there is a romance aspect to this book, as the title suggests, the book delves into issues that are a lot deeper than that. If you're looking for a great young adult read about identity, growing up, family, and friendship,
Emmy & Oliver
is a wonderful choice.
the good
The writing in this book is particularly strong. It's down to earth and realistic. There's no unnecessary drama, despite the somewhat heavy topic, and the dialogue is just fantastic: smart, funny, and heart warming. I loved the way that Benway wove this story, and I had a hard time putting it down.
I liked the fact that so much of this book wasn't concerned with the romance between Emmy and Oliver, but rather their friendship, as well as their friendships with Caro and Drew. If I had to choose one theme from this book, it would absolutely be friendship. It's such an interesting portrayal of how group dynamics shift when someone leaves and then comes back. It was also such a sweet story of growing up and understanding your place in the world.
the bad
My primary issue with this book was length. Rarely do I find young adult books to be too short, this one makes it on that list. I just wanted more of Emmy and Oliver. It's probably a testament to just how much I enjoyed this book, but another couple of scenes with them would have really cemented their relationship for me. I would have also liked to have seen more with Caro and Drew, particularly how some of Drew's storylines get resolved and progress.
the quote

"'Well, that's growing up, isn't it?' my dad said. 'You don't always have to know. And things aren't always fair. You just have to keep moving forward. A step in one direction.'"

skip it/borrow it/buy it
Absolutely pick this one up! It's such a great read. After a long wait, I got this one from the library and wish I would've just bought it straight out. On my next trip to the bookstore, I'll definitely buy it.

overall score:8/10
⭐️⭐️⭐️⭐️⭐️⭐️⭐️⭐️