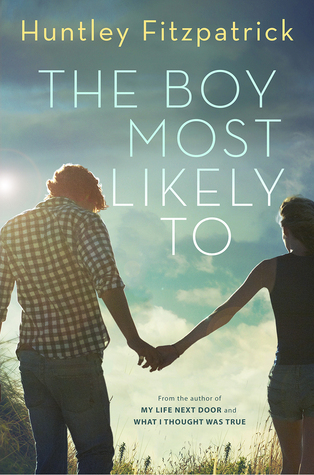 the lowdown
Tim and Alice never thought of falling for each other. He's her brothers best friend and she's the older sister with responsibilities. They fall for each other at the most unexpected time. That is, until Tim's past comes back to haunt him, and in the most unexpected way. Alice now finds herself in a situation that she would have never dreamed of. As told through Tim and Alice, this story will captivate you and make you love the boy most likely to.
Huntley Fitzpatrick is back and better than ever. We at Books Unlocked, have loved her books from the beginning and were so excited to get our hands on this book. The story brings you back to My Life Next Door, only now its about Tim, Samantha's best friend, and Alice, Jase's sister. Two people who are complete opposites but who are so attracted to each other, that they are willing to risk everything. Cover to cover, I loved this book. It reminds me how much love and dedication Fitzpatrick puts into her work and how she has become one of my favorite authors. If you have read her books in the past, this one is a must add for any bookshelf.
the good
Like all of Fitzpatrick's books, this one had characters that were each their own. They have ups and downs and thats what makes them likable. She gives life to her characters and allows them to grow throughout the book. They can be someone who you relate to or someone you may actually know in real life.
The plot and subplots of the book are so intriguing and you want to keep reading to see whats going to happen or if someone is going to do something. The plots are what make the book and this plot, along with the subplots, give the book the spunk it needs to be a 'i never want this to end' type of book.

the bad
Throughout the book there are some editing issues that could have been overlooked but once you read it its clear where the mistakes are. Its nothing against the author, more towards the editors because they are common mistakes.

the quote
"I am shocked. Well down the road beyond that, even - all the way to flabbergasted. Floored. But why? Isn't this the kind of thing everyone would expect to happen? The Boy Most Likely To strikes again?"

skip it/borrow it/buy it
If you can't already tell from my review, I loved this book. So I'm recommending you buy it and add it to any YA bookshelf.

overall score:8/10
⭐️⭐️⭐️⭐️⭐️⭐️⭐️⭐️