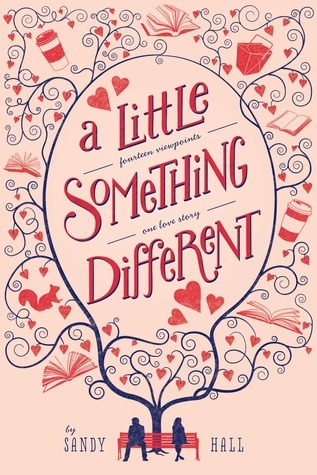 the lowdown
Lea and Gabe are taking the same creative writing class, hangout in the same places and even order the same Chinese dish. So when they're paths cross multiple times during the year, they begin to wonder if fate is on their side. Everybody can see that they are meant to be together, from the professor to the Starbucks baristas to the squirrel on the green. These two are made for each other, except Lea and Gabe can't see it.
I love, love, love this book!! It is going straight to my top 10 ya book lists. This story is told in 14, count them, 14 different viewpoints and never from the two most important characters, Lea and Gabe. In her first book, Hall did a tremendous job on this book and its a book I know I will pick up and reread over and over again. I liked how the setting was a university and I could relate to that since I am in the middle of finishing up my last semester. This is a book I hope could get a film or a tv movie and I hope it does. I think everybody should pick up a copy and read it because its amazing how an author could post her story on a website and then get it published and be so great and different and amazing. A Little Something Different has a little bit of everything from the drama to the romance and its something every person goes through.
the good
The writing is so different in the book and its a nice refresher. 14 different viewpoints on a love story. Its nice to step outside the box and get these points of view and to see it through everybody else's eyes. Hall is able to capture moments and bring them to life through her writing and through the 14 viewpoints.
The characters are all witty and different and their personalities jump right out of the pages. They are all different people who everyone can relate to in a certain way and it gives the book a feeling of closeness.
the bad
The different viewpoints can get to be a bit much but thats natural since its so many other characters to keep up. There are some that have no real connection to the lovebirds and those could have maybe been edited to have had a previous connection with them.
the quote
"They sit there in the window of the coffee shop for almost an hour, not talking much, but looking at each other over the tops of their books, flirting somehow even without words. It would be gross if it weren't adorable."

skip it/borrow it/buy it
I would recommend buying it and reading it immediately. This book is too good to pass up.

overall score:10/10
⭐️⭐️⭐️⭐️⭐️⭐️⭐️⭐️⭐️⭐️